Can a COVID-19 face mask protect you from facial recognition technology too?
Andreea Belu, Campaigns and Communications Manager at EDRi
Harmit Kambo, Campaigns Director at Privacy International
Our relationship with 'public space' is being redefined, not just by a global pandemic, but also by a new era of biometric surveillance technologies. Biometric mass surveillance enables companies and authorities to track us based on unique personal data and identify us whenever, wherever we go.
The increasing use of facial recognition and other biometric surveillance technologies – on our streets, in train stations, at protests, at sports matches and even in our global 'town square', Facebook – means that our freedom to be anonymous in public spaces, our freedom to just be, really does face an existential threat.
Mass facial recognition risks our collective futures and shapes us into fear-driven societies of suspicion.
This got folks at EDRi and Privacy International brainstorming. Could the masks that we now wear to protect each other from Coronavirus also protect our anonymity, preventing the latest mass facial recognition systems from identifying us?
A COVID-19 facemask that tricks facial recognition? Let's try.
At first, it seemed an easy task. After all, a face mask covers most of your face already.
However, we already know that facial recognition systems are remarkably sophisticated, and can identify people (or misidentify people) with relatively little 'face data'. In fact, while we were working on this project, new revelations showed: a normal face mask doesn't help you 'evade' facial recognition.
Given that anti-surveillance clothing and make-up has had some success in confusing facial recognition systems in the past, we thought that it would be worth experimenting with a similar approach with a face mask pattern.

In looking for the right pattern design, we sought the advice of Tijmen Schep – researchers / artists with experience in tricking facial recognition algorithms.
More difficult than it seems, the tech is too creepy.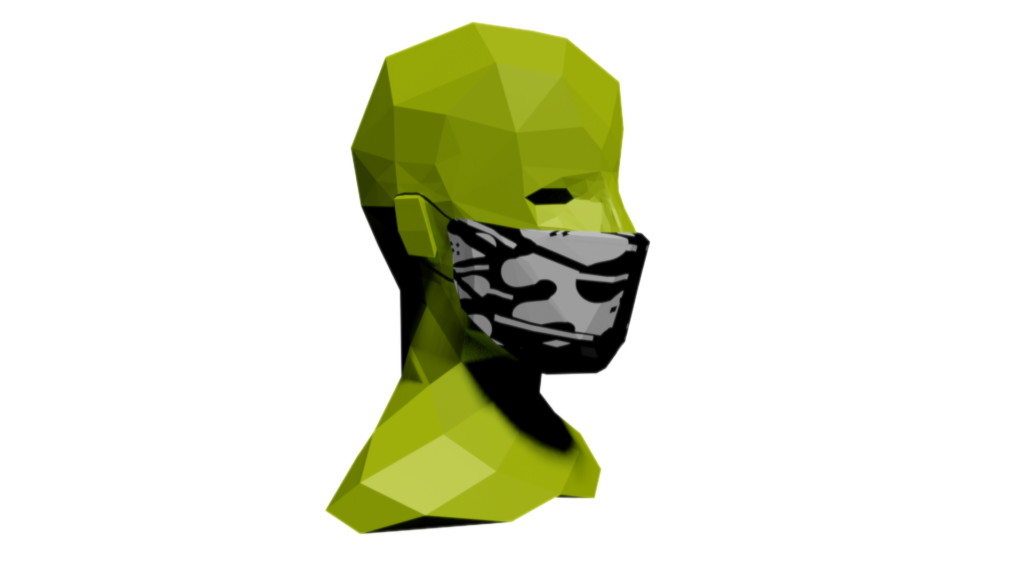 And that's where it got complicated. Here are just some of the challenges we encountered in our journey:
Every facial recognition system works in a different way. This means that a design that might 'fool' one system, might not fool another.
Most facial recognition algorithms as opaque black boxes. The lack of transparency in the use of facial recognition makes it difficult to understand what is being used, how and where. As Adam put it "There is really no such thing as a mask that blocks 'face recognition' but rather a mask that blocks, for example, a ResNet-50 CNN model that was trained on VGG Face2 dataset."
Masks have a small surface area. A pattern that might work on an item like a t-shirt might not be effective in confusing FR when used on a small item like a mask.
Stopping face detection, let alone recognition. We tried to create a pattern that would confuse the tech in such a way that it wouldn't even perceive a face, let alone be able to recognise it. This might be through using a pattern made up of simple black and white geometric forms. However, face detection technologies are so good these days, we soon realised that this approach is unlikely to fool them.
Face detected. Stop recognition? So then we then considered an alternative approach. Instead of geomertic forms, what about using warped face-like features instead, perhaps using a mixture of natural and 'unnatural' colours, to mislead or at least lower the confidence of a match score? We were optimistic about this, but then we got stuck in the black box problem : we could only know of its effectiveness, by testing it across a vast range of currently opaque facial recognition technologies, which are constantly being updated and increasingly sophisticated.
What did we learn?
Here's what we learnt from our exploration into stopping intrusive facial recognition technologies from detecting or recognizing our face, when wearing a face mask.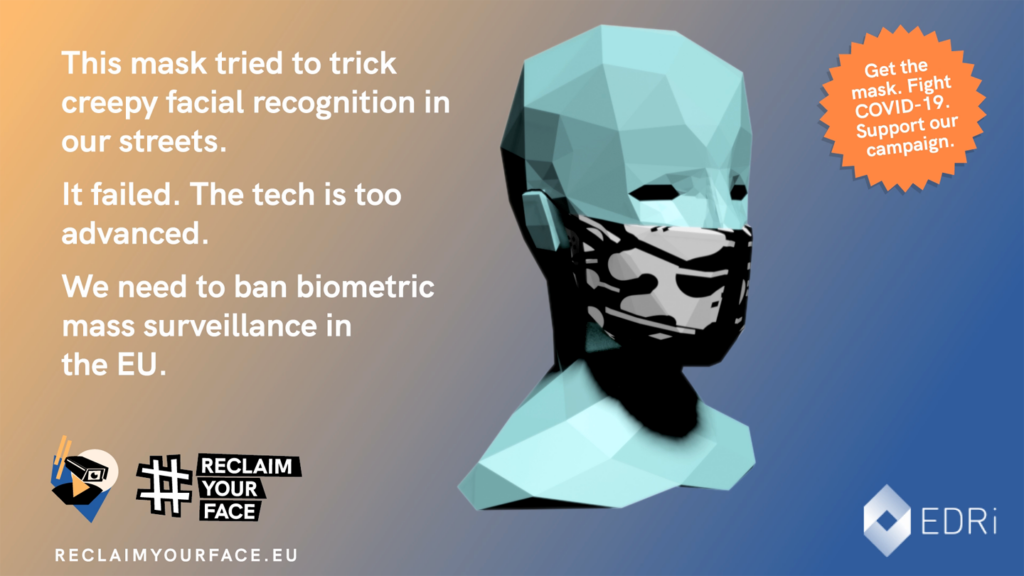 We do not know whether it is possible to design a face mask that can protect your anonymity against facial recognition technologies.
What we know for sure is that it is virtually impossible to know whether even our most 'educated guess' would be totally effective, partially effective, or totally ineffective against all, some, or indeed any facial recognition systems.
The small acts of resistance we might take against these powerful technologies are not a substitute for for structural, long-lasting solutions. Therefore..
…People should not carry the burden of masking themselves to maintain their anonymity. Instead, governments must ensure unlawful biometric mass surveillance such as mass facial recognition is banned in our publicly accessible spaces.
Why did we produce the mask anyway?
The mask is a symbol of resistance against the growing use of mass facial recognition. Wearing this mask means wearing the story of resistance. Wearing this mask means standing up to power, ready for collective action, ready to #ReclaimYourFace.
Since October 2020, a growing coalition of now 61 civil society organisations have mobilised across Europe with one message: "The EU must ban biometric mass surveillance!"
The solutions we ultimately need are not clever facial recognition-thwarting face masks. Instead, we need politicians and decision – makers who do their job right. We need strong regulation against the use of biometric mass surveillance – across the EU and beyond.
Join the movement, make your voice heard today.