Our movement gathered in Brussels
Between 6 and 9 November 2022, more than 20 activists from across Europe gathered in Brussels to celebrate the successes of the Reclaim You Face movement. We got to meet each other in real life after months of online organising, reflected on our wide range off decentralised actions, and learned from each other how to couple grassroots organising with EU advocacy aimed at specific events and EU institutions. Read on to see what we did.
We learned from each other
For the first time since the beginning of this campaign, we could finally meet in person. The people who came to Brussels included representatives from NGOs, artists who dedicated their work to raising awareness of biometric mass surveillance as well as activists who answered our call for volunteers. All in all, we came from 10 of the 25 countries in which Reclaim Your Face is active: Germany, France, Slovenia, Czech Republic, Serbia, the UK, the Netherlands, Belgium and Italy.
"I was just walking on the street and saw the Reclaim Your Face poster. My art project had the same critical approach to facial recognition in public spaces. After I wrote to the organisers, I decided to connect my art performance with this campaign."

Laura A Dima. multi-disciplinary artist
On one hand, our colleagues in Brussels shared lessons on how the EU works, and the hot topics (and arguments) around biometric mass surveillance in the current AI Act negotiations. On the other, those who mobilised at national level shared how they coordinated local coalitions, how they put in practice challenges such as the #PaperBagSociety, and how we can improve Europe-wide digital rights campaigning in the future.
"Because I was already organising at my university for racial justice, I had a network of people who cared about anti-discrimination. It was easy to engage people in this topic, since everyone recognised immediately the dangers",

Monica Nguyen – a student who organised actions at Cologne University – told us.
We attended an event in the EU Parliament
In order to mark this significant gathering of activists in Brussels, 10 Members of the European Parliament (MEPs) from four political groups co-hosted a meeting in the European Parliament on the topic of biometric mass surveillance. Resonating in the Socialists & Democrats group, the Renew Group, the Greens/EFA Group, The Left Group and with support from the ECR group, MEPs made strong commitments to defend our shared demands for a ban on the use of technology that amounts to biometric mass surveillance.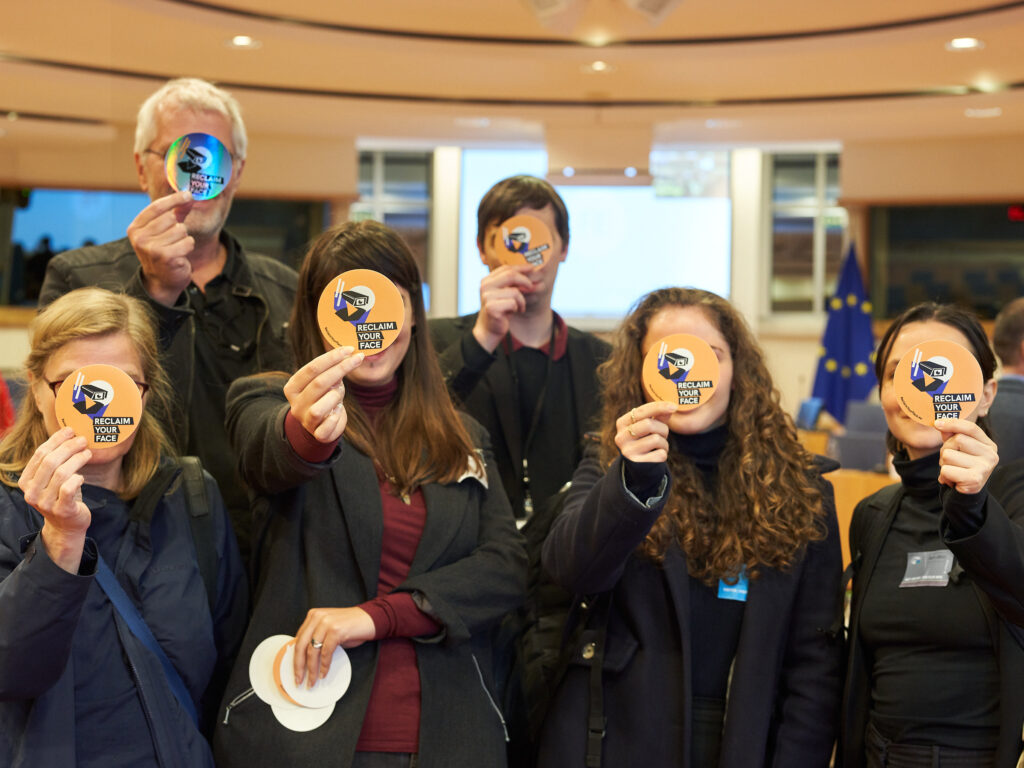 During the meeting, people from five NGOs in Reclaim Your Face made statements about the use of biometric mass surveillance across Europe (European Digital Rights), but also in France (La Quadrature du Net), Germany (Chaos Computer Club), the Netherlands (Bits of Freedom) and Slovenia (Citizen D). Listen to the recording of the event to hear the interventions from NGOs and the commitments of MEPs involved.
The event was attended by over 90 people in the room, with an additional 30 attending online.
We held more than 15 advocacy meetings with legislators in the EU Parliament and EU Council.
Among many learning sessions and collective events, activists also arranged meetings with legislators who we hoped to convince of the need for a full ban on biometric mass surveillance practices. We refined our arguments and examples, and formed teams to ensure each group included a more experienced advocate.
For those who have never met an MEP, this was a crucial moment.
"I would love to return to Brussels from digital rights advocacy, to connect the actions in my country with EU laws negotiations. It is very powerful to see the impact we have have here".

Martin Wieland – Unsurv project
We delivered an open letter to the Permanent Representation of Germany to the EU
Finally, we made a pit-stop in front of the German Perm-Rep on 8 November, to raise attention to a new open letter from 24 civil society organisations which urges the German government to to stand up in the negotiations on the AI Act and advocate for a strong ban on biometric surveillance. The letter comes in the middle of heated negotiations about whether the EU will put people's rights at the heart of its approach to artificial intelligence. We called on the German coalition government to meet their public commitment to ban biometric mass surveillance.